I am not leaving instagram -Laura Ikeji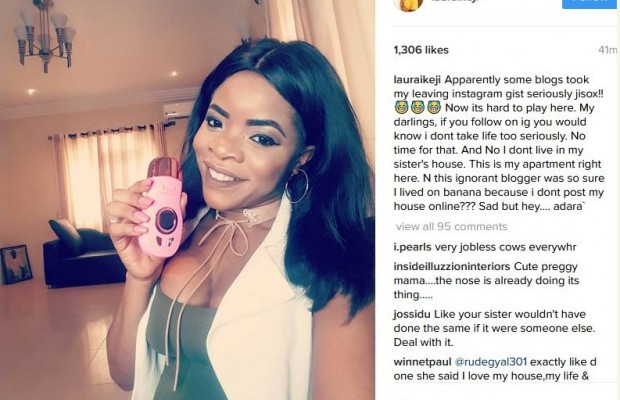 Laura Ikeji has dispelled the news going round in the social media that she is quitting instagram. She took to her instagram handle to displace this rumor minutes after announcing her exit on instagram.
---
The younger sister of millionaire blogger Linda Ikeji also debunked the rumor that she is living with her sister, sharing a picture of herself with her husband in her own apartment to confirm this.
See the posts below :
She had earlier posted an update on her instagram account that she will be going off insagram for a while. This is the message she posted earlier:
"Unfortunately I'll be going off instagram for now. Will keep having fun and living happy but it won't be on camera anymore. Someone else would be posting stuff about @lauraikejigang store on here sometimes.
Appreciate all the love but hey.... phase2 is calling! I'm out yall✌✌✌