UN Charged To Deliver Aid To Syria Despite Government Opposition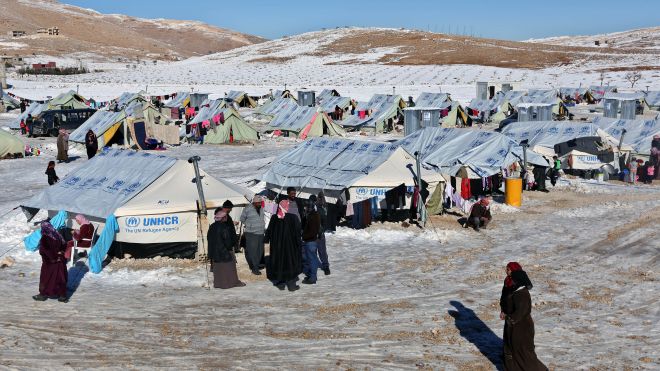 The UN should deliver aid into Syria with or without the government's consent, a group of prominent lawyers and academics say in an open letter.

The letter, signed by 35 legal experts, says permission for aid is being arbitrarily withheld.

A UN resolution adopted in February called for all sides in the conflict to allow unrestricted humanitarian access.

More than 150,000 people are believed to have been killed in the three-year civil war.

The signatories include Justice Richard Goldstone who was the chief prosecutor at the UN tribunals for Rwanda and the former Yugoslavia.

The letter was published in several Arab and British newspapers on Tuesday.

It called on the UN to ignore "arbitrary" government restrictions on aid entering Syria.

It said the UN was being "overly cautious" in its interpretation of international humanitarian law by waiting for the Syrian government to consent to aid deliveries.

Jared Genser, one of the legal experts who signed the letter, told the BBC that the distribution of UN aid inside the country was unfair.

"What concerns me is that something like 80 to 85% of the aid that's being provided by the UN is going into areas controlled by Assad. And a much lower percentage of it, 15 to 20%, is going into the areas controlled by the rebels." he told the BBC.

"What we have now in Syria is a situation where you literally have millions and millions of people being denied access to humanitarian aid on arbitrary grounds," he added.
'

On Thursday UN Secretary General Ban Ki-Moon accused all parties to the conflict of "flagrant violations" of international law over the delivery of aid.

He urged the Security Council to take action to implement the February resolution demanding greater access.

Almost 3.5 million civilians were being denied vital aid, including medicine and medical care, Mr Ban said.

Millions of people have fled their homes as fighting shows no sign of easing.

The uprising in Syria began in March 2011 after security forces opened fire on protesters.

The country has since descended into civil war as rebel brigades - including Islamists and jihadists linked to al-Qaeda - battle government forces for control.