Your African record not safe, Onyali warns Okagbare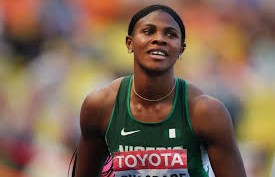 Former African sprint record holder Mary Onyali on Monday urged  Blessing Okagbare to work towards lowering her time in the women's 200m.
Atlanta '96 Olympic Games gold medallist Onyali told the News Agency of Nigeria in Abuja she was happy to see her record of 22 years broken by another Nigerian.
---
Glasgow 2014 Commonwealth Games sprint double champion Okagbare on March 25 set  a new African 200m record at the Wes Kittley Invitational at the Abilene Christian University in Abilene, Texas.The 29-year-old set the new record with a time of 22.04  to erase Onyali's 22.07 record set at the Wetklasse Grand Prix in Zurich, Switzerland 22 years ago.
"I am excited and fulfilled to see a record that I made years ago broken. I congratulate her.
"I have always known that she will break the record, since I have been monitoring her performances," Onyali said.She however expressed fears that the new record was not safe at the point it is now.
The Canada '94 Commonwealth Games gold  medallist added, "Where the record is right now is not safe. Okagbare needs to drop it down to 21 seconds.
However, Onyali said the fact that her 1996 record was  unbroken for 22 years was a sign of athletics underdevelopment in Nigeria and Africa.