Reina Keen On Barca Move - Father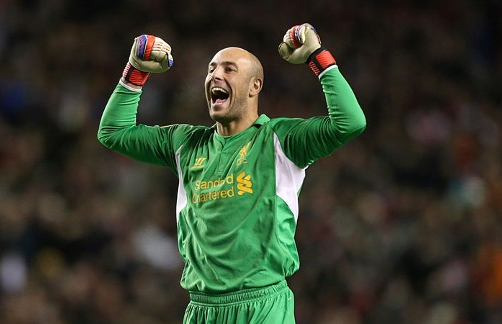 Pepe Reina's father, Miguel, has said the Liverpool goalkeeper would be "delighted" to replace Victor Valdes at Barcelona.
Miguel Reina kept goal for Barca for seven seasons in the late 1960s and early 70s, and recently began working back at the club as a goalkeeping coach.
He said he would be delighted if his son, who came through the Catalan club's youth ranks and played 49 times for them before leaving in 2002, returned to the Camp Nou.
Valdes' agent, Gines Carvajal, told Barca last week that his client would leave the club when his current contract ends in June 2014, sparking speculation about potential replacements.
Reina senior told radio station La Xarxa both he and his son thought a return to Barcelona would be a great idea.
"I am absolutely convinced that Pepe would be delighted to return to Barcelona," he said. "I would love to see him back. What father would not like to see his son play for Barca? I did it, but it would be extraordinary again, if it happened."
As a former La Masia graduate, Reina has the ability - particularly with the ball at his feet - to fit into Tito Vilanova's side's style of play, his father said.
"Pepe has shown the measure of the goalkeeper he is and I believe he would be up to the task," he said. "Even more, he would be the ideal goalkeeper for Barcelona, without any doubt."
Meanwhile, Thibaut Courtois' father, Thierry, has said he has not heard anything about the young keeper joining Barca or whether he will remain on loan at Atletico next season or return to parent club Chelsea.
Courtois junior, 20, has already made over 50 appearances for Atletico, and on Sunday kept his tenth consecutive clean sheet at the Estadio Vicente Calderon in his side's 2-0 Primera Division win over Levante.
His father, who helps manage his son's affairs, said a meeting was scheduled with Chelsea to discuss future plans.
"There has been no contact from anyone," he told Belgian paper DH. "I spoke with Chelsea's goalkeeping coach, who is going to send me some data on his performances. He should do that in the next few days.
"After that, they have called us to a meeting, Thibaut and his parents. We will talk for the first time about his future, but we know nothing yet."
He said Thibaut was worrying about his future, adding: "Thibaut is relaxed. He is not one to worry about things too much. He is already at a great club. He is not the type of person to get excited about these things."