Leo Messi Hungry For New Record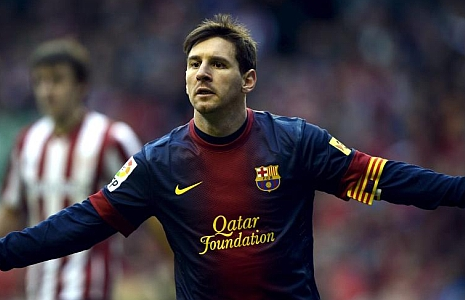 It is no secret that Leo Messi has always wanted to go one better with each new season, improving as a player, breaking his own records, doing battle with himself. With four games remaining till the close of the league season, the main aim - to win the title - is almost in the bag. Meanwhile, the Barça striker has a few personal scores left to settle, and they are still within his reach.

Messi has scored 45 goals so far in La Liga. He is only five away from matching his best tally ever, which he achieved last season. This record still stands as the highest number of goals ever scored in the competition in one single season. But it isn't outside the realms of possibility for Messi to set the bar even higher.

The first chance he'll have will be this Sunday in the Vicente Calderón and, what's more, Atlético is one of his favoured victims. It is the team he has scored most goals against since joining Barcelona. In the league competition alone he has struck 17 times in 13 games against the Matress-makers. It remains to be seen what physical shape he is in but if his league match against Betis is anything to go by, when he scored twice and almost got a hat-trick, the Argentine has a good chance of making the starting line-up.

After playing in the Calderón, Barça face Valladolid at home. After that, they play away to Espanyol in Cornellá, the only first division team stadium that Messi has yet to score in. What more incentive does he need? The Argentine has scored eight goals in 13 derbies, but not one even once in Cornellà-El Prat. Finally, Barcelona will end its season at home to Málaga. Five goals in four games is all it takes and one thing is clear - if anyone can, Messi can.