Tribunal: Justice Bulkachuwa steps down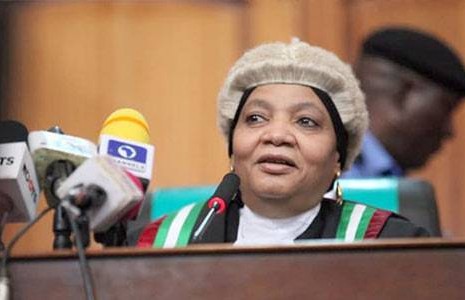 The People's Democratic Party PDP which is challenging the victory of President Muhammadu Buhari in the February presidential polls had asked Justice Bulkachuwa to recuse herself because she is married to a senator-elect of the All Progressives Congress APC a ground upon which Atiku Abubakar and the PDP asked her to recuse herself.
---
Citing personal reasons, the judge who is married to Muhammed Bulkachuwa announced her decision to recuse herself despite the panel ruling against the PDP.
Counsels from both parties, the All Progressives Congress and the PDP, deliberated on the application calling for her withdrawal from playing any further part in the tribunal.
While the PDP stood its grounds based on Justice Bulkachuwa's culpable affiliation to the APC by virtue of her husband and son's membership of the party, the APC and INEC based their arguments on conventions and gender.
Lead counsel to President Buhari, Wole Olanipekun, submitted that the President of Court of Appeal and chairman of the panel is at liberty to either withdraw or not to do so.