INEC begins process to recall Dino Melaye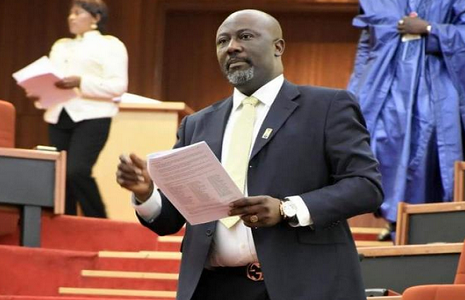 The Independent National Electoral Commission (INEC) has begun the process to recall Senator Dino Melya representing the Kogi West senatorial district in the Senate.
---
In a notification letter addressed to the embattled lawmaker, INEC's national commissioner and member of the information and voter education committee, Mallam Mohammed Haruna notified senator Melaye about the demand by the people of Kogi west senatorial zone for his recall.
Haruna, said the decision to inform Melaye was taken at the commission's meeting held in Abuja on Thursday, where the petition submitted by voters in Kogi west senatorial district was considered.
He said that the commission would issue a notice to the petitioners and Melaye on July 3, on when it would begin the verification of the signatures of those who signed the notice.
Aggrieved voters from Melaye's constituency were at the commission's headquarters in Abuja on Wednesday where they presented their petition on their demand for the recall of the senator.
Mohammed Haruna said: "INEC has held its regular weekly meeting and considered the petition submitted by whole registered voters from Kogi West senatorial district to kickstart the process of recalling Senator Dino Melaye.
He said in accordance with INEC guidelines for recall of members of the National Assembly, the Commission has finally acknowledged the receipt of the petition to the petitioners' representatives and has conveyed a letter notifying Senator Dino Melaye of our receipt of the petition.
Kogi West, which Melaye represents in the Senate, has seven local governments areas.
Galaxy television had reported that signatures and petitions from each of the local government areas were packaged in seven bags, which were tagged according to the names of the local governments, and submitted to the commission.
The local governments and the percentage of voters who signed the recall petition showed that Yagba West had the highest number of voters asking Melaye to return home from the Senate.
The breakdown, as shown in the petition is: Yagba West, 55.7 percent; Lokoja, 54.8 percent; Kogi, 52.77 per cent; Yagba East, 52 per cent; Ijumu (Melaye's local government), 51.8 per cent; Mopa/Moro, 50.4 per cent and Kabba/ Bunu, 46.7 per cent.