Ihedioha appoints 27 LGA interim management committee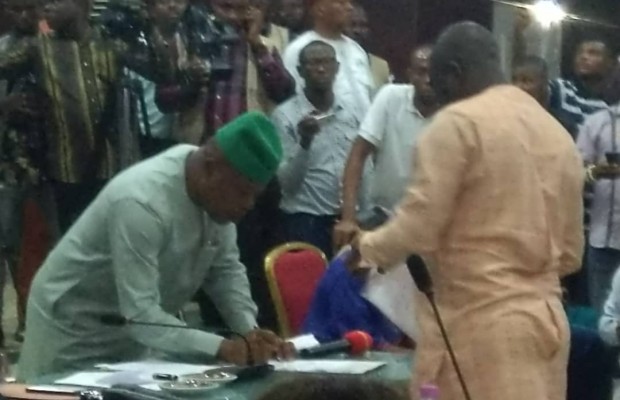 Following the suspension of local government chairmen and councillors constituted by the former governor Rochas Okorocha across the twenty-seven local government of the state, Imo state governor Emeka Ihedioha has appointed new interim management committee IMC to spearhead the affairs of each of the local government of the state for the next six months.
---
The selected members, having gone through the state assembly screening were on Tuesday the 18th of June 2019 sworn in into office.
Addressing them shortly after signing their appointment letters Governor Ihedioha said, the 27 were selected base on merits. He tasked them to raise the bar high as the Imo people will not settle for anything less.
Governor Ihedioha said the move is to ensure that local government function as an autonomous government and the people must fill government at grass root to cushion the effect of rural-urban migration.
He, however, tasked them not to fail in their respective local government area. The governor also reminded them that anyone fund operating below standard will be removed in the best interest of the people of Imo state.
He also ordered that all those selected and sworn in as the IMC Chairman of the various local government must reside in their various local government.
Consequently, the governor reiterated that the past local government administration under former governor Rochas Okorocha will be subjected to intensive scrutiny and every kobo of meant for the said period must be accounted for.
In their response, Mr Charles Obara IMC chairman for Ngor Opala, Paul Uche IMC chairman for Okigwe, Innocent Ekenma IMC Chairman Owerri west among several others express gratitude to the governor for finding them worthy.
They, however, promise to discharge their duties effectively by bringing government closer to the grass root to enable them enjoy dividends of democracy.