Crisis hits Ekiti APC, faction accuses SWC of bias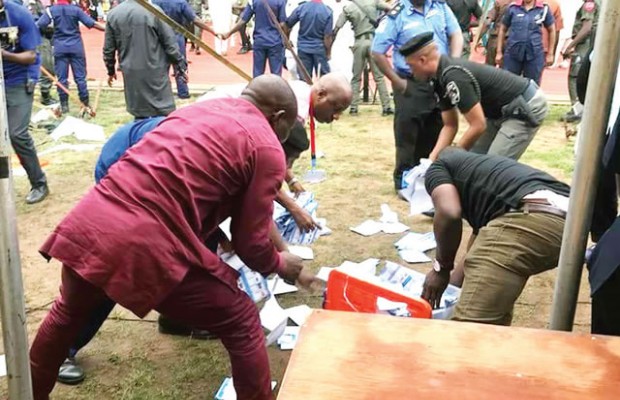 The last may not have been heard about the crisis rocking the All Progressives Congress (APC) in Ekiti state as a group within the party today occupied and locked its secretariat in Ado the Ekiti state capital.
---
Kayode Egunjobi who claimed to be the new Chairman of the party in the state said the Jide Awe led executive is working against the emergence of a particular aspirant and instrumental to the disruption of the APC governorship primary.
Armed policemen from the federal special anti-robbery squad on Monday took over the secretariat of the All progressives' congress in Ado Ekiti.
This follows a protest at the party secretariat. The group which calls itself Concerned APC Stakeholders believes the needed action at a time like this is to change the leadership at the state level. 
They accused the Jide Awe led exco of bias and sponsoring a candidate in the botched Saturday gubernatorial primary of the party.
But Awe says the purported change of leadership is a joke which cannot stand as he denies the allegations levied against his team. He also warned the perpetrators to stay clear of the party secretariat as the state working committee of the party cannot be sacked by some disgruntled elements hired by politicians trying to subvert the will of the majority.
 Recall the gubernatorial primaries of the party held on Saturday was disrupted by agents of some aspirants in protest against irregularities observed in the processes.
 As the clock keeps ticking for the APC in Ekiti State, it is imperative for stakeholders in the party to ensure a speedy resolution of all lingering issues if the party indeed hopes to get victory come July the 14.