Buhari sworn in for a second tenure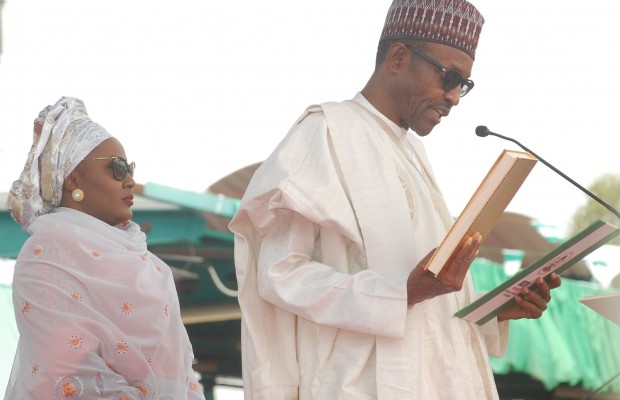 President Muhammadu Buhari has been sworn in for his second term as the President of Nigeria.
---
 At the ceremony which held at the Eagle Square, Abuja, Acting Chief Justice of the Federation, Mohammed Tanko, administered the oath of office to the President at 10:42 am, shortly after Vice President Yemi Osinbajo took his oath of office.
The ceremony commenced around eight o'clock with the arrival of dignitaries who were conveyed into the eagle square.
As announced earlier, the inauguration was low key as no fanfare was displayed.
President Muhammadu Buhari arrived at the venue of the occasion at ten thirty AM taking National salute which heralded the commencement of the occasion.
After the Muslim and Christian invocations rendered by the chief imam of the National Mosque, Shehu Galadanch and the President of the Christian Association of Nigeria, Pastor Supo Ayokunle, the president and his vice took took oaths of allegiance and office, performed by the acting chief justice of Nigeria, Mohammed Tanko, swearing to discharge their duties to the best of their abilities, faithfully and in accordance with the Constitution of the Federal Republic of Nigeria, the law, and always in the interest of the sovereignty, integrity, solidarity, well-being and prosperity of the Federal Republic of Nigeria.
They also swore to preserve the Fundamental Objectives and Directive Principles of State Policy contained in the Constitution of the Federal Republic of Nigeria stating that they will not allow their personal interest to influence their official conduct or decisions.
That done the president inspected the guard of honor where he received greetings from a cheering crowd.
Then, the twenty-one gun salute.
Dignitaries expressed optimism that the second term of president Muhammadu Buhari will be better for Nigerians.
Apart from general Yakubu Gowon, none of the former heads of states attended the inauguration.
The ceremony was witnessed by members of the first and second families including the wives of the President and vice president, Aisha Buhari and Dolapo Osinbajo, senate president Bukola Saraki, speaker of the house of representatives, Yakubu Dogara, members of the diplomatic corps diplomats, among other top government officials and politicians.