Anxiety over Ajimobi Health as Neighbours Dispel Death Rumour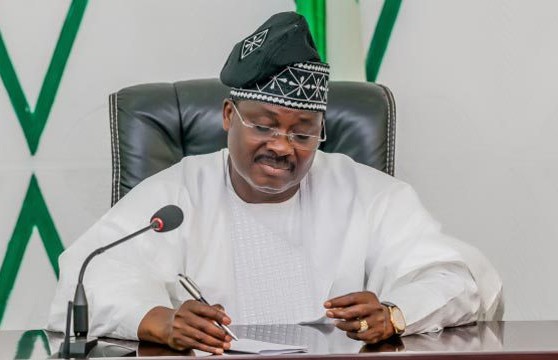 As anxiety and confusion continue to trail the health status of the former Governor of Oyo State, Abiola Ajimobi, family members and neighbours have dispelled the rumour of his death.
The atmosphere was tense in Ibadan, the Oyo State capital, on Thursday over the health status of a former Oyo State Governor, Senator Abiola Ajimobi while the social media was filled unconfirmed reports about former Governor's deteriorating condition.
Correspondent Kunle Ojo who visited the 6th Avenue Oluyole Estate residence of the former Governor reports that the atmosphere was cool and calm with no sign of confusion and apprehension among neighbours.
Though few Security men and other domestic staff of Ajimobi were seen around his house, some of his neighbourhood were seen in groups discussing the development and prayed fervently for his quick recovery.
Also, the Special Adviser to the former Governor on Media and Strategy, Bolaji Tunji says his boss is alive and his responding to treatment.
 He expressed shock and disbelief about the reported death of Ajimobi in some section of the media but called for fervent prayer for the former Governor.
It was gathered in the early hour of the day that the condition of the former governor had deteriorated.
Ajimobi, the newly appointed acting chairman of the All Progressives Congress, has been receiving treatment for suspected COVID-19 ailment in a Lagos hospital for close to two weeks.