Akpabio makes choking revelation about PDP-led federal government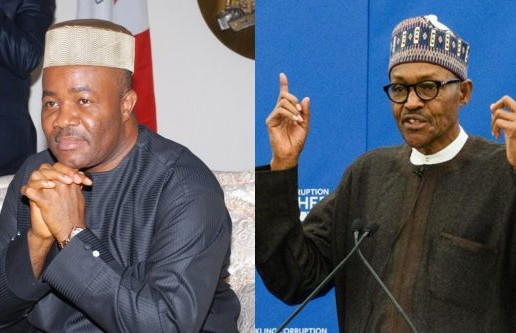 Former Governor of Akwa Ibom state, Senator Godswil Akpabio on Monday revealed that there was not even one-kilometre road project constructed by the PDP-led federal government in the state throughout its 16 years in office. 

---
Akpabio who was the Senate Minority leader before his defection to the ruling All Progressives Congress (APC) in August stated this when he led elders and leaders of APC in a solidarity visit to President at the Presidential Villa, Abuja.
Akpabio said his heart was with President Muhammadu Buhari in the 2015 election despite the fact he was a member of the Peoples Democratic Party (PDP).
It was the first time Akwa Ibom APC members are visiting the president since 2015 general election.
Former governors,  former and serving lawmakers as well as other stalwarts were all present to meet the president and to pledge loyalty to the ruling APC and the president cashed in on their presence to recount government development efforts in Akwa Ibom state and announced plans to reconstruct the popular very bad Aba Ikot Ekpene road.
The president visitors assured him that Akwa Ibom will be the first state from South-South that will be won by the APC in the 2019 general elections, stressing that already what remained of the PDP in the state was mere carcass as the body and soul of the party had joined the 
The uncommon party members told the president that over 266,000 new members have registered with the APC with more itching to join.
They say Akwa Ibom state indigenes and indeed all South-South will vote for the President come 2019.
They also assured the president that no defection from the APC  will affect the chances of the party in the forthcoming elections.
Reports by Nnabuchi Nnabuchi