Akpabio assures better PDP in 2019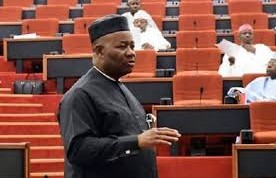 Former governor of Akwa Ibom state and senate minority leader, Goodswill Akpabio has said the People's Democratic Party (PDP) is gaining more members on a daily basis at the grassroots level and should not be judged by its current crisis. 
---
Senator Akpabio said this while reacting to the ongoing crisis in the party and defection of some PDP senators to the rulling All Progressives Congress (APC) in the senate. He said the present crisis in the PDP is an internal wrangling for the chairmanship position which will soon be over.
The senate minority leader said that the PDP in 2019 will be a better alternative to the ruling APC
It would be recalled that an appeal court sitting in  Port Harcourt ruled that Ali Modu Sheriff is the legitimate chairman of the party, but Ahmed Makarfi is still holding on to the chairmanship position of the party and has gone ahead to the supreme court.