Youths stage protest over herdsmen killings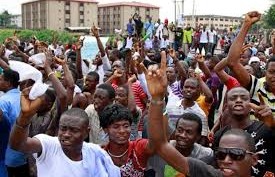 Activities in the Wurukum area of Benue state were put to a halt as angry youth and students took over the streets in a protest over the slaughtering of at least fifty persons in Guma and Logo local govt area of the state.
---
The youths trooped to the busy part of the capital to register their grievance over the failure of the state government and security agencies to protect lives and property in the state. 
Expressing his grievances, a youth leader under the banner of Occupy The Food Basket, identified simply as Sam ijoho say they the youths have lost confidence in the ability of the state government, the police and other state apparatus to secure them.
The youth did not hide their anger over the situation. Not even in the presence of the state governor nor the presence of the state police commissioner, Bashir Makama who seeks to address them but could not calm them. 
The hoodlums in their crowd seem to have turned the peaceful protest into a violent one, while their actions provoked some officers of the Nigerian police who discharged teargas to disperse the angry crowd.
The angry youths accused the state governor, Samuel Ortom of failing to fufil his promise which was to take care of the situation.
It would be recalled that Benue has witnessed series of suspected herdsmen attacks leading to the several deaths in the state.