Victims of Oshodi building collapse count losses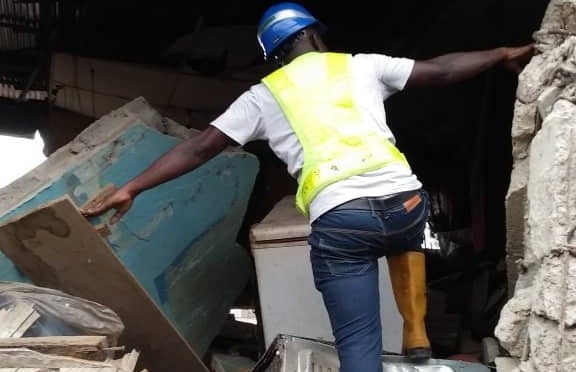 A day after another avoidable building collapse was recorded in Lagos, residents of the structure have been counting their losses while two of the victims are still recuperating in hospital.
---
It's an occurrence Lagos residents are all too familiar with. Another building collapse, this time in Oshodi.
Renovation work was ongoing at the structure located on Adesanya street, Mafoluku when the one storey building collapsed.
Thankfully, no life was lost this time. The incident occurred 3 months after the infamous Ita Faaji building collapse which affected over 170 children.
Our crew visited the scene 24 hours after the tragic event, some of the victims were still seen rescuing their belongings from the rubble as sympathizers were in clusters discussing the tragedy.
Although several attempts made to speak with the Lagos State Emergency Management Agency, LASEMA to find out the cause failed, the agency through a Twitter post said 2 persons were trapped and rescued while also noting that the rehabilitation work being carried out on the building was illegal. 
Some eyewitnesses and immediate responders recount their experience. They disagreed with casualty figures being peddled by some media organizations, insisting that only 3 persons were affected and taken to the hospital while the others have since been discharged.
Some of the residents who weren't willing to speak on camera said the structure was one of the oldest on the street.
Building collapse in Lagos is one case too many. The latest panel set up by the state government following the Ita-Faaji building collapse on Lagos Island discovered a staggering  283 distressed buildings across the state. The jury is still out whether or not there have been proper implementation of the panel's recommendations.