Protest as Oyo closes plank market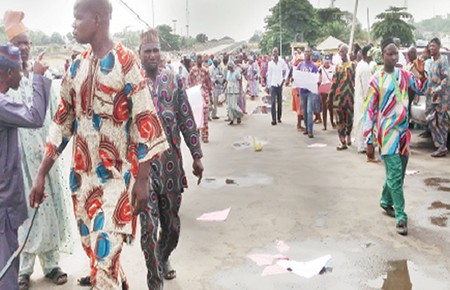 Plank sellers at the Temidire market located along Old-Ife road in Ibadan have taken to the streets in a protested against the closure of the market by the Oyo state government,  through the ministry of environment and water resources.
---
The commissioner, Chief Isaac Ishola said the government decided to closed the market because of environmental hazards the market has constituted to the health of the people.
The crisis rocking the plank market started in 2012, when the state government announced it plan to relocate the market to a new site in the Fasade area of the state as a result of the increasing level of development at the existing location.
Since then, the traders have been foot dragging on the matter but due to series of protest letters from residents of the area on the health implications of the market , the state decided to trake drastic action on the matter.
Already, policemen have beed deployed to strategic locations in the market while none of the traders were allowed to enter their shop or open for business activities.
Some of the traders who spoke with Journalists said they are fed up with the situation stressing that they are not ready to leave the market for any other place.
It was gathered that some of the traders have relocated to the new site created by the state government, other traders in the market urged the state government to obey the existing court order on the matter.
On the position of the state government, the Commissioner for Environment and Water Resources, Chief Isaac Ishola said the market existing under the environmental laws in the state had not other option than to be close.
He added that the state government is authorized to oversee the welfare of the people, noting that since the relocation order was issued in 2014, the traders have been foot dragging on the matter.
The traders insist that they are not ready to move until the court says otherwise.
Meanwhile, operatives of the Oyo state police command had since taken over the market.