Oyo residents decry poor access roads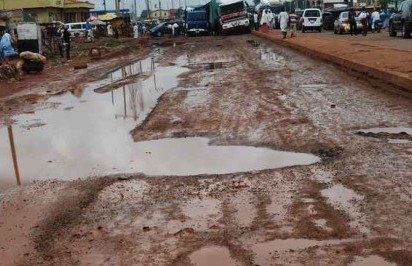 Residents, especially farmers at Ilaji, Baale Agbe, Temidire and the Ikoyi area of Sabo in Oyo town have expressed their worries over the deplorable conditions of roads in the areas calling on the state government for an appropriate action.
---
The farmers, transporters, agricultural produce retail sellers and the youth at the villages expressed their displeasure on the untold hardship the state of the road has caused them economically and otherwise. 

Galaxy television gathered that the majority of the farmers and motorists operating in the areas decried the situation stressing that most people with vehicles in the areas have abandoned them.

A representative of farmers in the community, Pa Solomon Ojo, representative of the farm produces sellers, Pa Phillip Ayoola and Chairman, farm transporters Segun Adeyemo lamented the high cost of transportation produced from the farm gate to the spot where the produce will be distributed to the city and other part of the country.

The community leaders added that all efforts to reach out to the state government at this time when agricultural development is one of his major agenda all proved abortive.

Responding to the allegations, the commissioner for Agriculture and Natural Resources in Oyo state, Adewumi Oyewumi says the state government had adopted a collaborative approach with the World Bank to address this problem.
While appealing to the residents and the farmers as well as other road users in the axis, Adewumi assured that in the next one or two months, contractors will soon be mobilised to site.
Report by Kunle Ojo