Osun pensioners protest unpaid pension, gratuity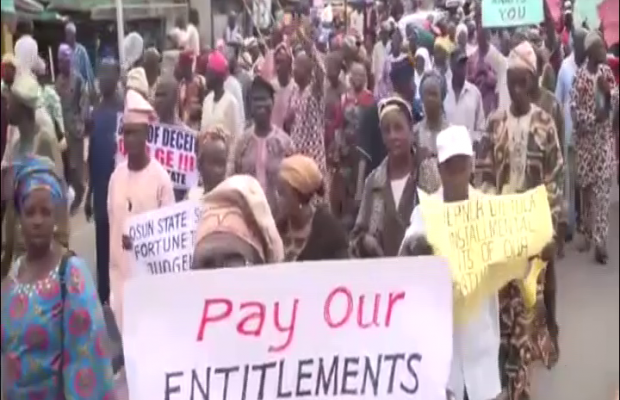 Retired civil servants in Osun state took to the streets of Osogbo, the capital city to protest non-payment of their pension arrears.
---
The protesters who are members of the 2011/2012 pensioners said that they are protesting their fifteen months pension arrears and a large part of their gratuities still being owed by the government of the state.
Speaking during the protest, the pensioners said that the series of letters written to the state governor to attend to their backlog of pension arrears and the outstanding gratuities have not yielded any positive results.
Some of the pensioners lamented that the government is not responsive to their plights and as a result, some of their members have been subjected to social maltreatment due to financial difficulties.
The retired civil servants, however, stated that they are not aversed to infrastructure development in the state but want the government to prioritize the betterment of the welfare of retirees.
The protests which kicked off at Ayetoro junction moved through Igbonna, Old Garage, was terminated at the popular Oke-fia junction in the state.