Nigerians drag Buhari for visiting Lagos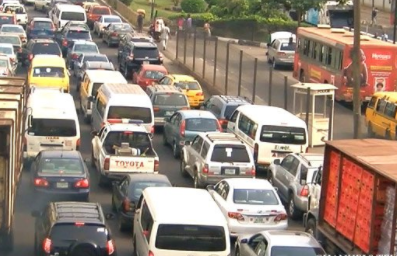 As Lagos on Thursday, March 29, plans to receive President Muhammadu Buhari, some Lagosians have expressed their reactions as they woke up on Thursday to discover that the major roads in the state are on total lockdown.
---
Instead of expressing joy over the planned visit of the President, some Lagosians rather didn't find the situation funny as they took to their social media handles to express their dissatisfactions over the recent development, as some were forced to trek kilometers to their various destinations.
Using the hashtags; #BuhariVisitsLagos #PMBinLagos #HelloSir #BuhariWastedYears #BuhariMustGo #BuhariCatastrophic3Years #HelloSir, some also expressed their displeasure over the alleged maltreatment by some security operatives, staged to secure some of the roads in preparation for the arrival of President Muhammadu Buhari.    
However, the state commissioner of Police, Edgar Imohimi had advised motorcyclist to stay off some roads on the Island, stressing that passengers who ply motorcycles on some of these roads would be arrested and possibly prosecuted.
President Muhammadu Buhari, who intends to commission some major projects in the state, would also participate in the 66th birthday celebration of the national leader of the ruling All Progressives Congress (APC),  Asiwaju Bola Ahmed Tinubu.
Read some reactions below:
#HelloSir @AkinwunmiAmbode Eh-Sir, this moring I av trekkk from Sango to Mongoro because Say-Baba is coming to open bus stop in Lagos. is it fiar like that? Sir, there's kpandamonium everywhere. Pls epp. #PMBinLagos
Eh-Sir, this moring I av trekkk from Sango to Mongoro because Say-Baba is coming to open bus stop in Lagos. is it fiar like that? Sir, there's kpandamonium everywhere. Pls epp. #PMBinLagos
"@abbeydot: This is what bad governance looks like. Blocking everywhere because of one man, who might still be in Abuja as I type this. Abuja to Lagos is 1hr....and he cannot miss his flight. Why give majority of the citizens grief for a visit? #PMBinLagos #GIDITRAFFIC
More
"@OladapoAwobeku: All these Lagosians have to trek all the way! This isn't good governance! This isn't what #Nigerians voted for!!! All because one man @MBuhari Is coming to town! #PMBinLagos #GIDITRAFFIC #Buhari @Gidi_Traffic
"@hmeelarh: State of things in IKEJA ALONG, LAGOS this morning; Roads are blocked and Lagosians trekking to their work places all because the president @MBuhari is visiting . #ImagineNigeria #PMBInLagos @Gidi_Traffic
Report by Godday Akoh