Kano Palliatives Are for the Poorest says FG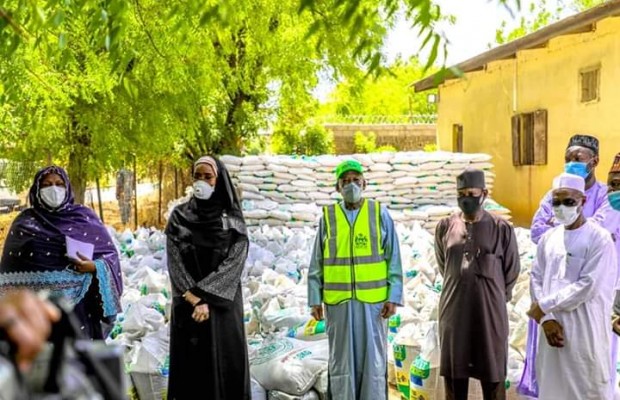 The federal government of Nigeria has reiterated its earlier stance that the palliative materials it provided to Kano state government are strictly meant for the poorest people in the state. 
The minister of Humanitarian Affairs, Disaster Management and Social Development, Hajiya Sadiya Umar Faruk said to Governor Abdullahi Ganduje in Kano that the palliative materials of about one hundred and thirty trucks of rice, millet, sorghum and maize are strictly for the poorest of the poor in the state. 
Hajiya Sadiya Umar Faruk said "We have brought one hundred and thirty trucks of foodstuff that includes; millet, sorghum, maize and Rice. We hope these items will carter for three hundred thousand households in the state. The government of Kano can also add to the materials to alleviate the suffering of its people".
Kano state government and its residents who have served a one-month lockdown at home to curb the spread of the novel coronavirus disease have been expecting the said palliative materials from the Federal government which has eventually arrived with conditions for whom it is meant for. 
While the lockdown lasted, Kano traders began to hoard essential commodities which led to hike in prices of those goods thereby bringing unbearable economic hardships on the people. 
However, in a state with over ten million people the humanitarian minister said the items are targeting at three hundred thousand households to cushion the effects of the lockdown imposed on the state. 
On his part, Governor Abdullahi Ganduje also concurred with the humanitarian minister that the palliative materials be reserved for a set of people he described as the poorest of the poor of Kano state.  
He said, "The government of Kano state has already taken statistics and record of the people that are deserving of these palliative materials but there are those who are more deserving of these foodstuffs, they are known as the poorest of the poor"