Harvey storm hits over 50 countries in Texas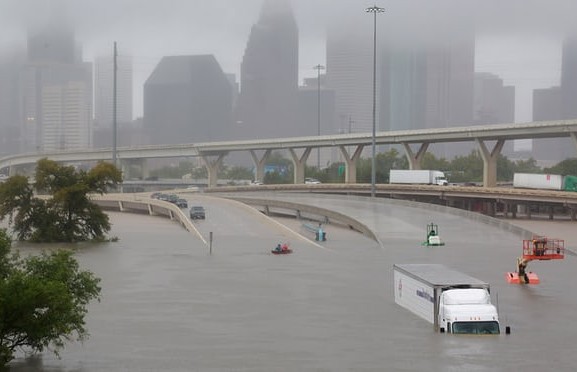 Harvey made landfall on the Texas coast late Friday as a Category Four hurricane, bringing lashing rain and sustained winds of 130 miles (215 kilometers) per hour.
---
 The National Hurricane Center called it the biggest rainstorm on record, with rainfall potentially reaching 50 inches (127 centimeters) in some places, including in Houston, the fourth-largest city in America.
More than 30,000 people are expected to be placed in temporary shelters in the US state of Texas due to widespread flooding caused by Tropical Storm Harvey, US officials said, with more rain expected in the coming days.
Brock Long, director of the Federal Emergency Management Agency, said on Monday that 50 counties in Texas are affected by the floods, which were brought about by an estimated six months-worth of rain falling in the last three days alone.
"We have not seen an event like this. You could not draw this forecast up, you could not dream this forecast up," Long said.
Earlier, Texas Governor Greg Abbott deployed an additional 1,000 National Guard troops, on top of the 3,000 already sent in the flood-stricken state, which is the size of France, Belgium and Switzerland combined.