Fire razes market in Ilorin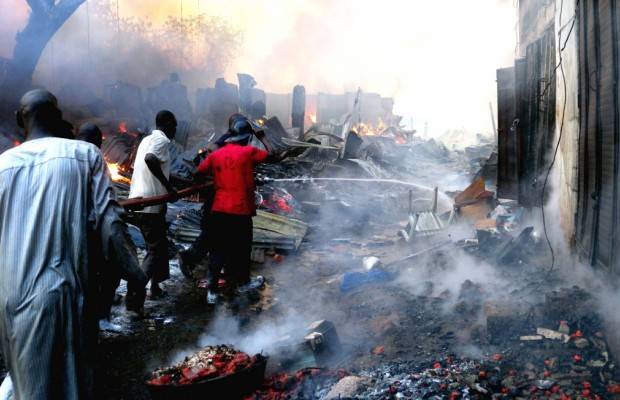 Goods worth millions of Naira as well as cash left behind by traders have been consumed by fire at Babaoko market  in Ilorin the Kwara state capital.
---
The fire  which was said to have been noticed at about 1am affected more than 40 shops and goods worth millions of Naira and cash were affected
 This is the fourth consecutive times that fire incident will occurr at this present popular market in Ilorin. Unfortunately,  nobody can trace the cause of the inferno
 Speaking with newsmen, the caretaker chairman of Ilorin local government, Hon Ahmeed Alli expressed  dissatisfaction over the re occurrence of the infernor, saying that the cause of present one has yet to be  identified
 He urged people of the market to be vigilant  and careful about electrical appliances and always switch off  all electrical appliances while leaving their shops
An eye witness claimed that the inferno which started from one of the shops in the market, was put out by operatives of the Kwara state Fire Service and some public spirited individual but the causes are yet to be known
Some of the victims also called on governemmt  to come to their aids as the fire incident has become reccurring thing in the market and many lives have been affected
They want the state government will  find a lasting solution to the fire outbreak in babaoko market because this is the 4th times that the fire incident will happen in the particular market.