FG sets up panel to recover N614 billion from 35 states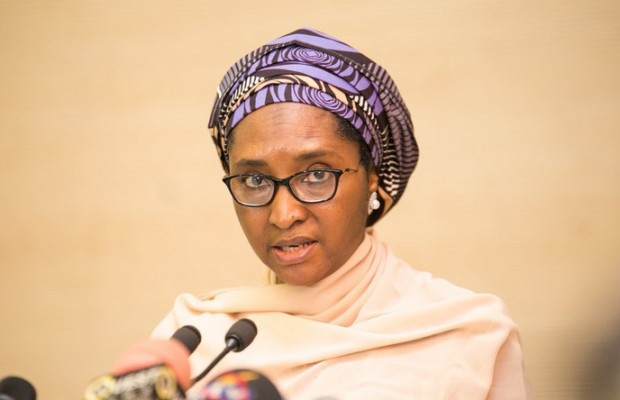 The Federal Government has put in place a committee to facilitate recovery of N614 billion given to 35 states as part of the budget support facility plans.
---
Minister of Finance, Budget and National Planning, Zainab Ahmed made the announcement while addressing State House correspondents at the end of the National Economic Council (NEC) chaired by Vice President Yemi Osinbajo on Thursday. 
Mrs Ahmed said each of the 35 states which benefited from the facility, is expected to pay back the equivalent of N17.5 billion.
The committee which comprises of the Nigeria Governors Forum, Ministry of Finance and the Central Bank of Nigeria to seek ways of ensuring refund of huge sums loaned to states as budget support facility.
Council also got a briefing on the balances at the stabilization fund account as well as the natural resources development fund which the minister of finance, budget and national planning said is to the tune of 95.3 million dollars.
A follow up of a report presented in 2017 on the government's zero oil plan under the economy and recovery growth plan has shown significant achievements. 
From the report presented to council, proper implementation will see Nigeria's foreign reserves become richer with an extra one hundred and fifty billion dollars from non-oil exports over the next ten years. Nasarawa State governor, Abdulahi Sule said, it could also lift twenty million Nigerians out of poverty and create five hundred thousand jobs annually.
A report was also received from the Nigerian stock exchange on the alternative and innovative long term financing of Nigeria's critical infrastructure and the next level agenda.
It gave several ideas on how the government's key priorities can be financed.
Governor Godwin Obaseki also conveyed minister of health's presentation of update on the polio eradication indicating a three-year milestone without any reported case of the disease 
Obaseki also intimated the council with governor Kayode Fayemi committee briefing on plans by the Inspector general to beef up security across the country with the commencement of community policing.
He, however, said the government also plans to employ N-power beneficiaries as police officers in their various communities stem insecurity in the country. 
Full details of governor Fayemi's committee is expected at the next council meeting.