Lagos insists closure of Queen's College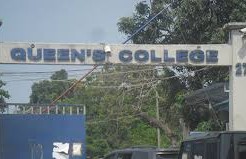 Lagos state government says Queens college , Yaba Lagos  will remain closed until a series of intervention work including testing and retesting of water sources in the school have been completed.
---
Lagos state Commissioner for Health, Dr. Jide Idris disclosed this during a briefing with representatives of the Federal government, the school principal and other stakeholders. The commissioner said students will undergo fresh medical tests to ascertain their health status following the outbreak of diarrhea which hit the school in February that claimed 3 lives
The health commissioner revealed that upon reopening of the institution, screening and monitoring of student's welfare and water systems would be sustained. He charged all schools in Lagos to maintain health standards at all times to prevent a repeat occurrence.
Recall that in February 2017, 40 cases of diarrhea infection was recorded in Queens College due to the contamination of multiple water sources in the school, leading to the death of 3 students.