Buhari receives Urhobo traditional rulers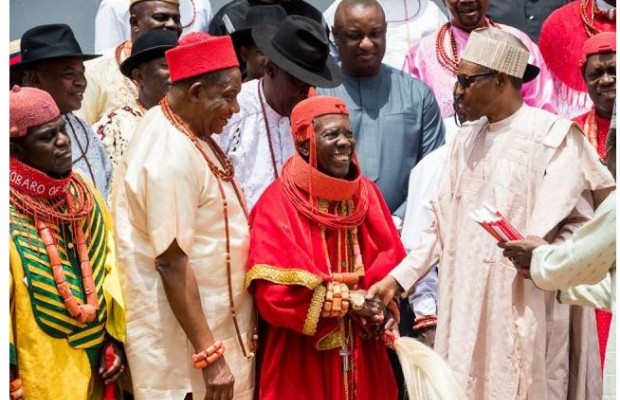 President Muhammadu Buhari on Monday received some traditional rulers and members of the All Progressive Congress (APC) from Urhobo land at the presidential villa, Abuja.
He lamented the sale of  lands given to the military saying government will ensure that those involved are made to face the law.
The president has directed the Ministry of Defence to investigate the alleged illegal military sale of land donated to it by communities in Urhobo, Delta state.
On the pollution of the waters in the Niger Delta Region, the president said prevailed on the visiting monarchs to  ensure restraints among their youths adding that oil spilliage can only affect the livelihood of the region.
He also assured the royal fathers of prudent spending of all resources garnered from all spheres of the nigerian economy.
Earlier, Spokesman of the group and President of Urhobo Progressive Union (UPU), Dr. Moses Taiga, complained to the president that the land Urhobo community donated to the military was being sold by unknown persons.
Taiga also urged the president to direct revitalization of the warri port among other demands.
The president however told the visitors that calls for restructuring the country has not caught his attention owing to the parochial interest stakeholders were attaching to it.
He said  some of the views being expressed for restructuring the country were uncoordinated, noting that the possibility of the Nigerian constitution supporting the idea was also doubtful.