Bomb explosion: Government, police, army condole Eziorsu residents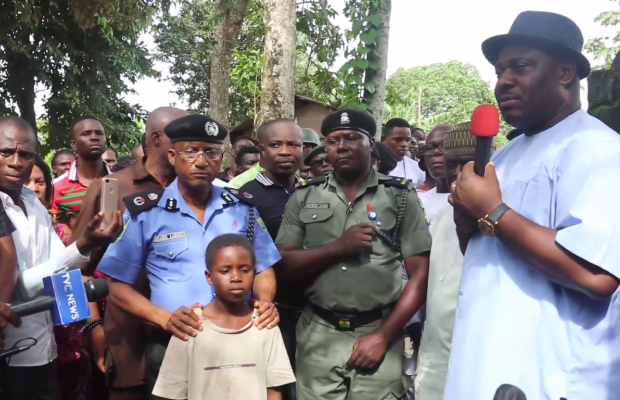 The government of Imo state led by Right honorable Emeka Ihedioha and security chiefs in the state has paid a condolence visit to residents of Eziorsu community in Oguta LGA of the state following the bomb explosion they suffered on Thursday.
---
The deputy governor Mr. Gerald Irona who represented the governor was at the scene of the incident in the company of security chiefs in the state.
The security chiefs present include the Commissioner of police CP Rabiu Ladodo, Commander 34 artillery brigade, brigadier general Y. I Takura, and the DSS Director Henshaw Author-Worrey among other represented service chiefs.
Addressing the locals, the deputy governor, while consoling the people assure them of the cooperation of the Emeka led administration.
On his part, the commissioner of police CP Rabiu Ladodo said the situation is under control and there no cause for further alarm, he promised that the security agencies in the state will continue to work harmoniously to ensure the protection of life and property in the state.
Still battling with the thoughts of the sad incident, some of the residents lament over the manner in which the situation was handled, according to them, the owner of the scraps gathering business Mr. Chisom where the explosion occurred is on the run because of the threat by the youths of the community.
They, however, affirmed his innocence and plead that every aggrieved person sees the situation as an unfortunate accident and not his deliberate act.