Ajimobi appoints 32 new Oba's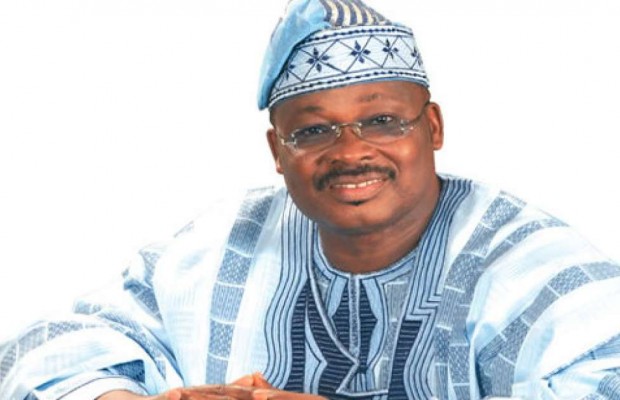 Oyo State Government has commenced the implementation of the Justice Boade commission on the review of Olubadan Chieftancy title with the conferment of obaship titles on 30 out of the 32 obas recommended by the commission.
---
 The figure is made up of the Nine High Chiefs of the Olubadan-in-Council and 21 other baales who are elevated to obaship status in line with the government white paper released on the obaship issue.
The Justice Boade Commission on the review of the Olubadan Chieftaincy law had last week submitted it report to Governor Abiola Ajimobi with the recommendation of 32 new obas in ibadan, a development which has been rejected by the  Olubadan of ibadan, Oba Saliu Adetunji.
True to his promise that the state government will expedite action on the report of the panel with the provision of a white paper and the appointment of the new obas, Governor Ajimobi on friday evening conferred obaship titles with one 30 Chiefs in ibadanland.
Aside from the former governor, Senator Rashidi Ladoja, all the other High Chiefs were at the House of Chiefs on Agodi to receive their conferment letters.
The conferment of the title is coming to the former governor despite his stiff opposition to the review of the chieftaincy laws.
The letter dated 25th August, 2017 and signed by the Permanent Secretary, Ministry of Local Governments and Chieftaincy Matters, Mrs. Olawunmi Ogunesan said the confirment of the new titles takes effect from Friday, 25th, August, 2017.
The letter added that the conferment qualifies the new obas to wear a royal beaded crown and that the new High chiefs will also be addressed as His Royal Majesty while the newly promoted 21 baales will be addressed as "His Royal Highness".
Speaking on the development, Governor Abiola Ajimobi, who was represented by the Secretary to the state government, Alhaji Olalekan Ali said the action of the government is in the best interest of Ibadan land and the state adding that it will not undermine the powers or status of the Olubadan in anyway.
He however called for peace and harmony among the people of Ibadan adding that the new obas should operate within the provision of the chieftaincy law.
The Commissioner for Local Governments and Chieftaincy matters, Mr. Bimbo Kolade said the newly promoted obas are to wear smaller crowns that will not demean that of the Olubadan in anyway.
Responding on behalf of the promoted Obas, HRM Oba Lekan Balogun thanked the governor for his doggedness and commitment to ensuring the implementation of a long overdue effort.
The new obas will be presented to with their staff of office at an elaborate celebration at the Mapo Hall on Sunday by Governor Abiola Ajimobi.