Abiodun presents 449.90bn for 2020 budget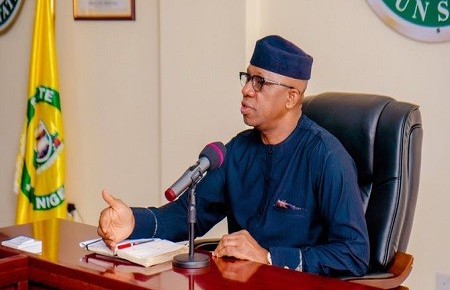 Ogun State governor, Dapo Abiodun has presented the sum of 449.90 billion Naira budget before the Ogun State House of Assembly at a ceremony held at the assembly complex in Abeokuta, the state capital.
The budget christened '' budget to build our future together'' has an increment of 49.674 billion as against 400.3 billion of 2019.
The governor said the proposed expenditure consists of Capital expenditure which stands at N269, 132 billion which accounts for 60% and Recurrent Expenditure of N180, 842 billion which stands at 39.69% .
He maintained that, his administration's five cardinal programmes would immensely benefit from the budget.
He enumerated that, the sum of N107.964 billion was earmarked for Infrastructural development which stands at 24% of the total budget, the sum of N128.067 billion was earmarked for Social Well-being and welfare at 28% , while the sum of N91.609 billion naira was proposed for Education.