Police shoot dead bus hostage-taker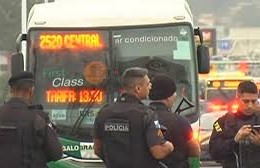 Military police say they have "neutralised" a man who held dozens of passengers hostage for more than three hours on a commuter bus in the Brazilian city of Rio De Janeiro.
---
In a tweet, police said all hostages had been freed after a sniper shot the man dead.
Police had surrounded the bus which came to a standstill on a bridge linking Rio with Niterói.
None of the hostages was injured, police said.
A spokesman for the military police, Col Mauro Fliess, told a local TV programme that the sniper opened fire when the hijacker appeared at the door of the bus pointing what looked like a weapon at the head of one of the hostages.
Col Fliess told TV programme Bom Dia Rio said the weapon the man was carrying turned out to be a toy gun.
Col Fliess praised the force. "this is the police force we want to see. The sniper shot was necessary to neutralise the outlaw and to save the people on the bus," the colonel said.
At least six passengers had been freed before the sharpshooter took aim. Footage showed one of the released hostages fainting as she got off the bus.