North Korean fires missile into east sea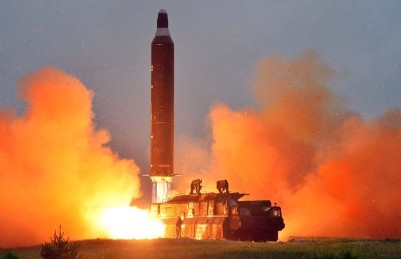 North Korea launch a ballistic missile  into the sea of japan  on Wednesday, a day before President trump was to host his Chinese counterpart President Xi Jinping, at his Mar-a-Lago estate in Florida for their first summit meeting.
---
It was said that the missile took off from Sinpo, a town on North Korea's east coast, and flew 37 miles before splashing into the sea.
The United States believes the projectile was likely a ballistic missile, according to a US official. It is one of several the country has test-fired in recent months.
The missile test is likely to intensify differences between Mr. Trump and Mr. Xi over how to deal with the uncooperative attitude of government in North Korea.
The timing is also a deep embarrassment for Mr. Xi as the leader of China, which for decades has been the North's closest ally. China accounts for about 90 percent of the North's trade and is a major supplier of oil for the country. But in the eyes of Washington, China has been reluctant to use its economic leverage forcibly enough to stop the North's growing nuclear and missile threats.
"The United States has spoken enough about North Korea," Secretary of State Rex W. Tillerson said in a statement. "We have no further comment."
There was no immediate reaction from state news media in China. Mr. Xi was in Finland when the test was carried out.
In Seoul, the South Korean capital, acting President Hwang Kyo-ahn ordered a meeting of security cabinet ministers to assess the test and the North's growing missile menace.