Gunman kills 1 at San Diego pool party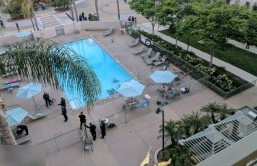 One woman was killed and seven people were injured, several critically, when a man opened fire at a San Diego apartment complex swimming pool where a number of adults were attending a birthday party.
---
The Police have shot and killed an armed man, responsible for the poolside attack. Police confirmed that Peter Selis opened fire at the people at La Jolla Crossroads Apartments, killing one woman and injuring others.
The attack appeared to be shooting at black people. The victims included four African-American women, two African-American men and one Hispanic man.
San Diego Police Chief Shelly Zimmerman confirmed that the 49-year-old white man was killed after he turned his large calibre handgun at the first responders who arrived at the scene and opened fire.