Egypt identifies church suicide bomber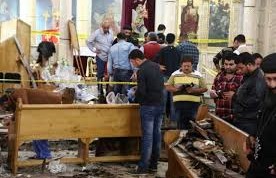 Egyptian authorities have named the suicide bomber who attacked a cathedral in Alexandria as 31-year-old Mahmoud Hassan Mubarak Abdullah, describing him as a fugitive with links to militant cells that carried out previous strikes in the country.
---

It said he was born in 1986 in the southern province of Qena and had lived in the province of Suez on the Red Sea.
The authorities said it had determined his identity by comparing the DNA of remains found at the site of the bombing with the DNA of "runaway suspects."
Abdullah had worked for an oil company.
Abdullah detonated his explosives at the entrance to Saint Mark's Cathedral, the historic seat of the Coptic Pope, killing 17 people as mass was being conducted. Hours earlier, another bomb tore through a church in Tanta, a city in the Nile Delta.
Egypt's government imposed a three-month state of emergency in the wake of the attacks.
It posted a photograph on its Facebook page of a man it said was Abdullah, placing the image alongside a picture taken by a surveillance camera outside the church.
Islamic State claimed responsibility for the Palm Sunday attacks, which killed 44 people in total and wounded scores more a week before the Coptic Easter.
The interior ministry said Abdullah had links with the Islamist militant cell behind the December suicide bombing on Cairo's main Coptic cathedral, an attack also claimed by Islamic State.