Delta: Mixed Reactions Trail Reappearance of Military Checkpoint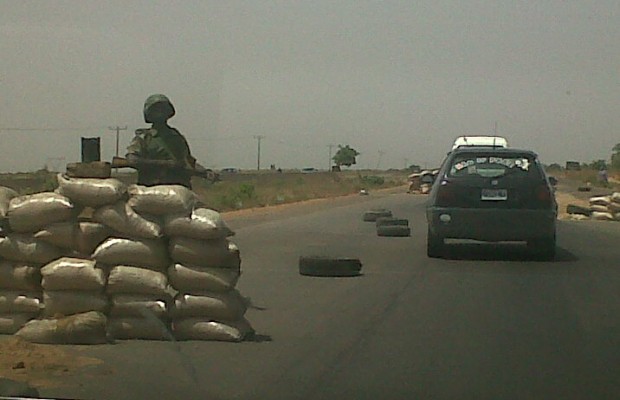 Barely  48 hours after the chief of Army staff General Kenneth  Minimah  made the declaration   that military checkpoints in restive areas comprising the South South and South East would be restored, soldiers of the Nigerian army three battalion in Warri have reappeared in major checkpoints within the metropolis.

The soldiers who reappeared with a different operational plan, erected a new signpost before he checkpoint  saying do not give bribe, as it is an offence.

went round the Warri metropolis to access the compliance of the soldiers file in this report. Supporting the move, some residents stated that kidnapping an armed robbery was on the rise since the military vacated the checkpoints. Other residents who spoke against the move urge the federal government to move the soldiers to the North East where Boko Haram is having a field day killing innocent Nigerians.

Meanwhile, a visit to the military checkpoint shows  traffic build-up as the soldiers were seated in their shelter, as against the usual stop and search they were known for.

Responding on behalf of the human rights community, a Niger  Delta rights activist lamented that keeping the military in checkpoints  is an infringement on the fundamental human rights of Nigerians.
                                                 
In the meantime, Niger Deltans and Nigerians in general will be watching with keen interest   if the return of military checkpoints will not be a return to the  old stories of alleged molestation, extortion  and torture  claims .