FG offers N2b loan for farmers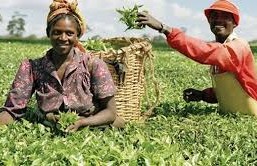 Governor of Central Bank of Nigeria (CBN ), Godwin Emefiele  has announced that the bank has decided to supplement the foreign investment and  Shonga Farms Holdings Limited in Kwara State with a loan of N2billion commercial agricultural credit scheme.
---
Emefiele who said the loan attracts a single digit interest rate of 9%, stated Kwara state has a comparative advantage in poultry business making it necessary to support the management. He also, said he has provided employment for a lot of unemployed youths in the state.
The Apex Bank Governor who disclosed this during a working visit to Shonga farms in Edu local government area of Kwara state, said the loan is meant to support value chain in chicken production in the farms with a potential of employing more hundreds of youths.
Earlier, the Senate President, Bukola Saraki thanked the CBN for supporting commercial agriculture in the state and assured the foreign investors that lawmakers will give support to agro-allied related business in the country through appropriate laws in order to create more employment opportunities for growing youth population in the country.
The state governor, Abdulfatah Ahmed assured the CBN Governor that Kwara state is adequately positioned to champion commercial agriculture revolution in the country.
He added that his administration has established an Off-taker demand driven scheme based on the lessons learnt from the Shonga model as a means of empowering farmers, creating jobs and establishing Kwara state as a major agriculture hub in the country.