Israel's Attack Raises Palestinian Death Toll To 500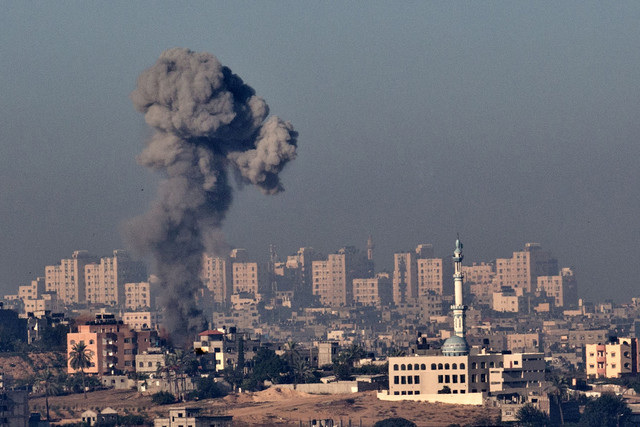 Israeli forces hit Gaza Strip towns with airstrikes and missiles Monday, raising the Palestinian death toll to over 500. The Attack by Israel has resulted in civilians streaming from their homes, many with little more than the clothes they were wearing.
The Israeli military reported seven of its soldiers had been killed in the last 24 hours, four of them by an antitank missile fired by Palestinian militants dressed in Israeli military uniforms who slipped across the border through one of the tunnels Israeli forces are trying to destroy.
The rising death toll has increased pressure on Israel and the Islamic militant group Hamas, which controls the Gaza Strip, to end the fighting. United Nations Secretary-General Ban Ki-moon and U.S. Secretary of State John F. Kerry headed to Cairo on Monday to try to persuade the sides to reach a cease-fire. Traditionally, Egypt has served as an intermediary between the two sides.
An Israeli airstrike on a high-rise tower in Gaza City killed at least 11 people, including five children, health officials said. Another strike killed 11 members of a family in the southern town of Rafah, they said. Rescuers searching the wreckage of a house targeted late Sunday retrieved 28 bodies in the town of Khan Yunis, also in the south.
Tank shells were also fired at Al Aqsa Hospital in the central town of Deir Balah, killing at least four people and injuring about 70, said Kidra, the health official. The upper floors were severely damaged. As medical staff were trying to evacuate patients to other hospitals, more shells were fired at the ambulances, forcing them to abort the effort, Kidra said.
The Israeli military said an initial investigation indicated that a cache of antitank missiles was stored in the immediate vicinity of the hospital.
"Civilian casualties are a tragic and inevitability of the brutal and systematic exploitation of homes, hospitals and mosques in Gaza," the Israel Defense Forces said in a statement. "While the IDF takes every possible measure to minimize civilian casualties, Hamas and its deliberate tactic of embedding terrorist activities within the urban environment is ultimately responsible."
The militants managed to infiltrate Israel for the third time in two days. Roads were blocked and residents of several nearby communities were instructed to lock themselves in their homes while the army searched houses and the countryside for any remaining attackers.
Ten of the militants were killed in an airstrike, the Israeli military said, while Hamas reported that two made it back to Gaza unharmed.
Israeli military officials have said that the number of rockets fired from Gaza toward Israel has decreased in recent days, but they say it is too soon to know if it is a trend. More than 100 rockets and mortar rounds streaked over the border Monday, according to the military, but they caused no injuries.