Al-Jazeera Jornalists Receive 7 Year Sentence In Egypt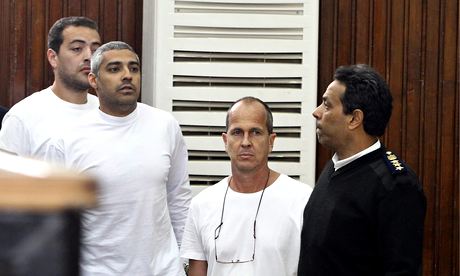 A judge sentenced three journalists from Qatar's Al-Jazeera satellite news channel to seven years in prison Monday, on charges of collaborating with "terrorists" to fabricate news in Egypt.
The verdict was delivered in a brief session at a courtroom in the Tora prison complex, where the detainees have been imprisoned for nearly six months. The prisoners and journalists for Al-Jazeera's English-language network include Egyptian-Canadian national Mohamed Fadel Fahmy, Australian Peter Greste and Egyptian cameraman Mohamed Baher.
Fahmy, the Al-Jazeera English Bureau Chief here, grabbed the bars of the black metal cage in which the defendants were held in the courtroom, prompting prison guards to violently pry him away.
The verdict appeared to confirm criticism of Egyptian authorities as presiding over one of the most severe crackdowns on dissidents and media here in decades.