Police arrest pastor with human part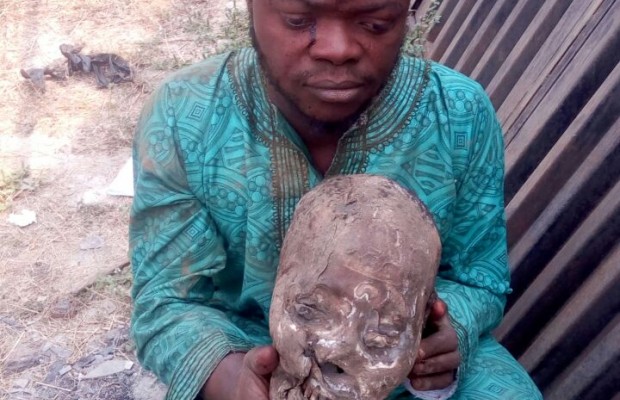 The Ogun State police command has arrested the founder of a white garment church and three others for alleged kidnapping and ritual killings. 
---
The founder of the white garment church located at Iyana Iyesi area of Otta was alleged to have received two kidnapped children.
 Ogun state commissioner of police, Ahmed Illiyasu while parading the suspects at the premises of the church where some decomposing items suspected to be human parts were exhumed said forensic investigation on the  items has commenced to enable prosecution of the case. 
 Among the suspects paraded by the police at the premises of the cherubim and seraphim church, itedo isinmi Ayo parish, church where decomposing parts were exhumed includes the founder, Pastor Samuel Babatunde. 
 The church founder while speaking with newsmen in Yoruba Language said the suspected items were decomposing parts of a pig.
 The suspected kidnapper arrested that led to the arrest of the church founder, Jerrimaih Ademola while speaking said he was paid fifty thousand naira each for the two children he had kidnapped for the church founder.
 Commissioner of Police, Ahmed Illyasu said Ogun State under his watch will not be conducive for all criminal elements and urged people to go about their duties within the ambit of the law. 
 Reports by John Felix