Warplanes hit Libya's Derna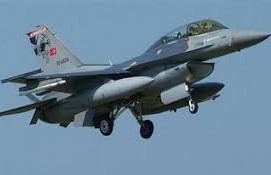 Warplanes launched three air strikes on the Libyan city of Derna on Monday, a witness said, days after Egypt attacked camps there, saying it was targeting militants responsible for killing Egyptian Christians.
---
 There was no immediate confirmation of Monday's strikes from officials in Libya or neighboring Egypt, nor any claim of responsibility for the raid on the city at the eastern end of Libya's Mediterranean coast.
The witness said one attack hit the western entrance to Derna and the other two hit Dahr al-Hamar in the south.
Egyptian jets attacked Derna on Friday, just hours after masked militants boarded vehicles en route to a monastery in the southern Egyptian province of Minya and opened fire at close range, killing 29 and wounding 24.
Islamic State claimed responsibility for that attack in Egypt, the latest targeting Christian minority there - two church bombings also claimed by Islamic State killed more than 45 last month.
Egypt, which attacked Derna again on Saturday, has carried out a number of air strikes on its neighbor since Libya descended into factional fighting in the years following the 2011 civil war that ousted Muammar Gaddafi.
source: reuters