35dead, 32,000 displaced as Harvey moves Inland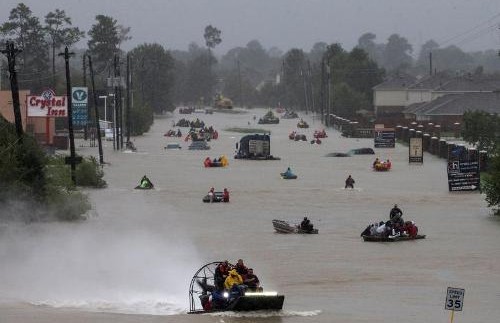 Tropical Storm Harvey weakened as it moved inland over Louisiana on Thursday, leaving behind record flooding that drove tens of thousands from their homes in Texas, with the death toll rising as bodies were found in receding waters.
---

The storm that paralyzed Houston is predicted to be one of the most expensive natural disasters in U.S. history and presents the administration of U.S. President Donald Trump with massive humanitarian and rebuilding challenges.
The storm has killed at least 35 people and forced 32,000 people into shelters since coming ashore on Friday near Rockport, Texas, on the Gulf of Mexico Coast as the most powerful hurricane to hit the state in half a century.
The Houston Fire Department will begin a block-by-block effort on Thursday to rescue stranded survivors and recover bodies, Assistant Fire Chief Richard Mann told reporters.
On Thursday Harvey is forecast to move northeast through Louisiana into Mississippi, dumping 4 to 8 inches (10 to 20 cm) of rain, the National Hurricane Center said. Flood watches and warnings extend from the Texas-Louisiana coast into Kentucky.