Physically challenged players celebrate World Table Tennis day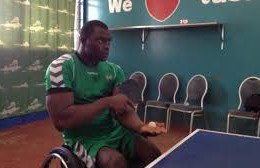 The Nigeria Table Tennis Federation (NTTF) on Thursday joined its counterparts globally to mark the World Table Tennis Day in Lagos with exhibition matches for the able-bodied and physically challenged players.
---
 April 6 every year is World Table Tennis Day to gather Table Tennis enthusiasts, attract people who usually don't play table tennis, promote love for the sport and engage new players to the practice in the long term.
the Indoor Hall Sports of the National Stadium, Lagos was packed with able and physically challenged players, who played an exhibition match to celebrate the day.
Also, the physically challenged were not left out as they played against their able-bodied counterparts.NTTF's Secretary-General Bola Adedeji said the celebration was to promote and create more awareness for the development of table tennis in the country.Adedeji said that the sport still needed more awareness to discover more talents at the grassroots.
There are currently 378 different events in 85 countries across all continents which aim to have over 60,000 participants in the celebration of World Table Tennis Day.Similarly, April 6, was  also the International Day of Sport for Development and Peace.