Akwa Ibom refutes reported deaths at Akpabio Stadium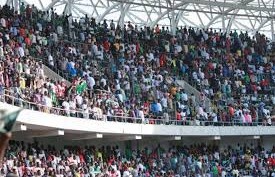 Akwa Ibom State Commissioner for Health, Dr. Dominic Ukpong has described as false and misleading, a report in a national newspaper, which alleged that five people died during the World Cup qualifier between Nigeria and Zambia in Uyo.
---

Ukpong, who said no life was lost, adding, however, that nine people, out of the 42 involved in a stampede, had serious injuries, while 33 others had minor injuries. He added that they were all discharged on Saturday.
Nobody died, not even one person. About 42 people were injured, nine were mostly injured and they are alive receiving treatment at the teaching hospital. The others were minor injuries and they have all gone home.
one of the nine victims that were seriously injured has been treated and the husband took her away that same day."Ukpong said the state prepared adequately for the match and responded promptly to the situation