I'm for free, fair 2019 elections- Buhari tells Theresa May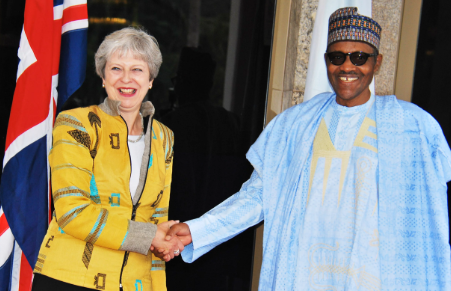 President Muhammadu Buhari on Wednesday, August 29, assured the British Prime Minister, Theresa May who had earlier visited the country, that he was all out to ensure free, fair and credible elections in 2019.
---
The Special Adviser to the President on Media and Publicity, Mr Femi Adesina, disclosed this in a statement made available to journalists shortly after Buhari held a closed-door meeting with May at the Presidential Villa in Abuja, Nigeria's Federal Capital Territory (FCT).
In his words, the president said; "I assure you that I'm all out for free, fair and credible elections. I'm very pleased that my party is doing very well. The High Commissioner will brief you more. The recent successes in polls in Katsina, Bauchi, and Kogi have boosted our morale greatly.
"Nigeria has accepted multi-party democracy and that is putting politicians on their toes, forcing them to work harder."
Buhari also applauded the British support for his administration's ongoing anti-corruption campaign.
He said the success of the campaign was important to ordinary Nigerians.
"We had great opportunities and resources between 1999 and 2014, due to high oil prices. But when we came in 2015, oil prices plunged to as low as $37 per barrel.
"What we have been doing since 2015 is to focus on infrastructure development, despite low earnings. Work is ongoing on roads, rail, power, and many others," he said.