Election Tribunal: Atiku, PDP Present Star Witness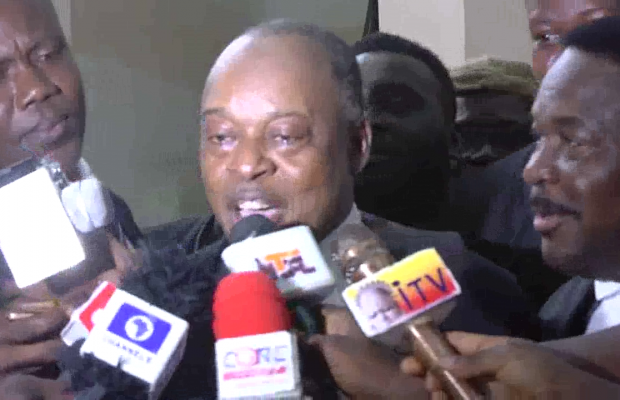 The Presidential Election Petition Tribunal resumed for hearing this Monday with the issue of admissibility of documentary evidence of Atiku Abubakar and the PDP challenging the outcome of the February 23 Presidential polls being the main talking point.
---
Galaxy's Godfrey Eshiemoghie reports that the whole controversy started when the counsel to the petitioners, that is Atiku and PDP, suddenly decided to have Segun Showunmi, the spokesman for Atiku Presidential Campaign team as the star witness.
The star witness of the petitioners in the suit was expected to be featured at some point in the hearing, but not as early as this Monday.
Reacting to having Segun Showunmi give his witness testimony, counsel to INEC, Yunus Ustaz, objected to the admissibility of the documents which he sought to tender to fault the outcome of the 2019 Presidential polls which saw Buhari's emergence
The documents in question are contained in 48 documents of information including an interview of former INEC Resident Electoral Commissioner for Akwa Ibom State, Mike Igini disclosing that election results are to be transmitted electronically to a central server.
INEC's argument is that the said documents were not front-loaded alongside items originally agreed to be tendered as exhibits during the hearing.
Counsel to Buhari, Alex Izinyon, and Adeniyi Akintola that of the APC, bought into the objection, thus leaving the chairman of the Tribunal to rule on the matter.
In the ruling, the 5-member Justice Mohammed Garba-led panel said the choice of documents which the petitioners sought to tender are within the specification of those earlier agreed by all parties to be tendered from the bar, and as such threw out the argument of the respondents on the inadmissibility of the documents. 
The video clips played during Monday's court were those that further amplified the petitioners' arguments that INEC indeed does have a central server
But at the point of cross-examination of PDP's star witness, Alex Izinyon requested the court's permission to play a CD of his own using the equipment of the petitioners, a request which was refused by Chris Uche, insisting the petitioners must get their own gadgets.
It was on account of this that the case was adjourned till Tuesday the 16th of July at the instance of Izinyon, counsel to Muhammadu Buhari for him to come along with his own gadgets.
Before Showunmi, the petitioners had featured three other witnesses, two from Borno and one from Yobe.