Wild animals invade Plateau state secretariat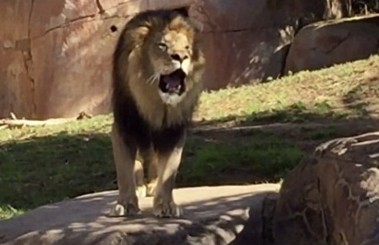 Wild animals have invaded Plateau state secretariat popularly Known as JD Gomwalk  secretariat in Jos Plateau state.
---
Security men at the secretariat raised alarm at the latest incident due to the attacking nature of the  beasts on domestic animals.  
It would be recalled that there has been several cases of escaped animals from Jos Wild life Park into the city of Jos, prompting the Military to step in to kill an escaping lion to avoid any human casualty in one of such incidences.
A security Man at the JD Gomwalk secretariat Jos, Adamu Manga, said he barely escaped with his life the previous night. 
Speaking in Hausa Language, he said while on patrol at night the wild animals invaded the secretariat devouring every domestic animal insight and had to hide for his safety. 
While pleading with the state government to equip them to fight the beasts, another security personnel Ishaya Joseph said wild animals invasion of the state secretariat has become a regular occurrence and that they are all afraid for their safety.
One of the director from the Plateau state civil service from the ministry of Agriculture hinted that from the investigation of experts and the attacking nature of the invading wild animals on the domestic ones, Hyenas are the number suspects. 
She therefore appealed to the government to equip the guards with necessary tools to enable them do their jobs effectively. She called for general beefing up of security  and  and addressing of shortage of manpower at the state secretariat.
The head of the state secretariat Izam Azi who doubles as the head of the Plateau state Civil service, said immediate steps would be put in Place to check mate the activities of the invading wild animals, he assured the workers that the government will leave no stone unturned in safeguarding lives of workers in the secretariat.
As at the time of filing this report, foot prints of the wild animals were still visible beside the domestic animals they killed.