TRCN insists on December deadline for teachers registration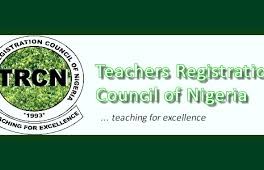 The Teachers Registration Council Of Nigeria has declared that there is no going back on December 2019 deadline for teachers registration across Nigeria.
---
The registrar of the council, Prof. Olusegun Ajiboye while speaking with correspondent Kunle Ojo on structure put in place by the national council on education to ensure qualitative education system in Nigeria says there is a need for competent teachers in the classrooms.
He added that any teachers not registered will not be allowed to practice any longer stressing that the federal ministry of education is equally in support of the need to sanitize the system of unqualified teachers.
On this year international youth day with the theme transforming education, Prof. Ajiboye noted that the whole world has recognized the need for transformation of the education sector adding that Nigeria should not lag behind especially in ensuring that competent professionals are given opportunity to practice.