Thunder kills 36 cows in Ondo community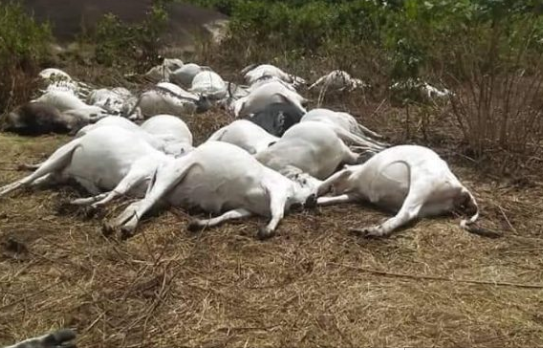 The invasion of the sacred grove of the Ijare people by Fulani herders has been described as an affront which could be a slap on the community if not for the intervention of the gods last Saturday.
---
About 36 cows that were taken to the hill by herders without the permission of the anybody was struck dead by thunder which many have seen as an act of god.
At the palace of the traditional ruler of Ijare, Oba Adebamigbe Okuwagbemigun said the people of the kingdom have been harassed several times with herders taking their cows to eat up plants at farms.
Meanwhile, the chairman cattle leaders in Ondo state who was at a meeting with the Olujare said they are going to put a measure to ensure that there's no more clashes with landowners and herders.
Traditional leaders of Ijare have issued a communiqué to all herders hibernating illegally in the forest around the town to leave before they are attacked by the gods of the land.