Tanker Crushes Vehicles in Ibadan, 3 Injured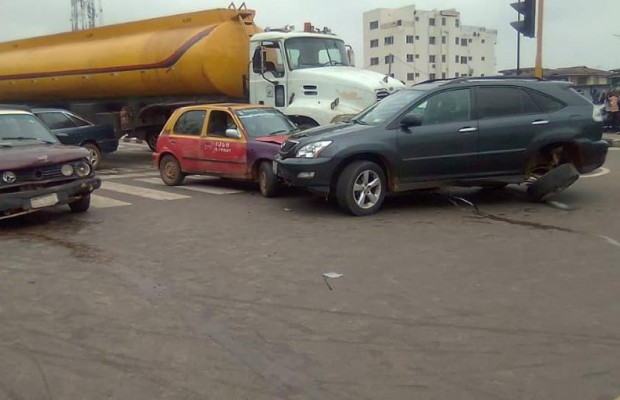 Three persons sustained various degrees of injury in Ibadan on Tuesday morning as a fuel-laden tanker crushes no fewer than five vehicles at Challenge junction in Ibadan.
The presence of the traffic lights recently installed in the area could not prevent the auto crash as eight other vehicles were also affected in the accident bringing the number of vehicles involved to 13.
Correspondent Kunle Ojo learnt that the fuel-laden tanker coming from the Lagos-Ibadan Expressway to the town lost control as a result of brake failure and rammed into the vehicles waiting for the traffic lights to pass them.
It was gathered that the incident led to multiple accidents in the area which brings the total number of vehicles involved in the crash to 13.
An eyewitness account has it that no life was lost in the accident but affirmed that three persons were seriously injured.
Confirming the incident, the Sector Commander of the Federal Road Safety Corps in the State, Uche Chukwurah said the report gathered by her men indicated that the accident was as a result of loss of control and break failure adding that three persons sustained injury.
She declared that three of the vehicles involved have been moved by owners before the arrival of FRSC officers arrived at the scene of the accident.
Chukwurah appealed to owners of articulated vehicles to always take care of such while she enjoined residents to always obey traffic lights.
At the time of this report, the area has been cleared while the wreckage of the vehicles involved have been moved by traffic officers.