Shoprite shutdown in Lagos as police takeover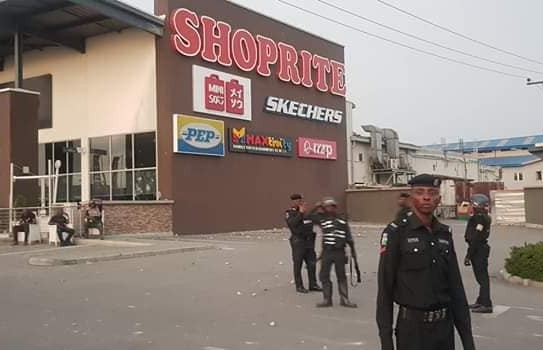 24 hours after violence erupted at some South African owned companies in Lagos, in reprisal to the killing of Nigerians in that country, police on Tuesday took over Shoprite Malls in Nigeria's commercial capital to avert further breakdown of law and order. Joseph Okoh tells us more in this report.
---
The news of renewed attacks on Nigerians and their businesses in South Africa may have reached a boiling point on Monday with violent protests; the illegal raiding of Shoprite malls and other establishments with South African interests but calm has been restored to those places.
A visit to a Shoprite outlet in Oniru Estate in Lekki indicated the heavy presence of security men. Although people were seen trickling in to engage in other mild activities at the mall, the supermarket was shut indefinitely.
Similarly, the Shoprite outlet at Jakande in Ajah, one of the places where there was deadly violence, security was beefed up and the usually busy mall was deserted. It was stricter here as those who attempted to use the ATM were refused entry.
The usually busy mall is now a shadow of itself........who works just metres away from the mall expressed say its closure will have a negative impact on other businesses in the area but told me safety is paramount.
There've been wild condemnations on the reprisal attacks but it is the expectation that latest efforts made by both the South African and Nigerian government will once and for all bring an end to the issue of xenophobia