Police handover victims of baby factory to NAPTIP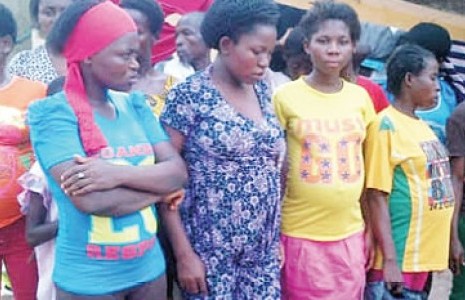 Men of the Lagos State Police Command have rescued and handed over 19 pregnant young women and four children during raids on four baby factories in the state to The National Agency for the Prohibition of Trafficking in Persons (NAPTIP). Kelly Egiga was there and tells us more.
---
During the raids by the Lagos State Police Command, two suspects, Happiness Ukwuoma and Sherifat Ipeya, were arrested; while the principal suspect, one Madam Oluchi, absconded after she got wind of the raids. The state Police Public Relations Officer, Bala Elkana, says a manhunt had been launched for Oluchi, adding that the suspects were operating as nurses at the baby factories despite not having formal medical training.
The trafficking of children for the purpose of domestic service, prostitution and other forms of exploitative labour is a widespread phenomenon in Nigeria. Children and women are recruited with promises of well-paid jobs in urban centres within the country or abroad, realizing too late that they have been lured into a debt bond.
The NAPTIP zonal head while receiving the victims promised to investigate the case and bring the traffickers to book while the victims narrated their ordeal.
Regretfully, Nigeria is a source, transit and destination country for trafficked women and children. Prostitution, domestic and exploitative labour continues to fuel this modern form of slavery. There is yet no reliable estimate of the number of children trafficked internally and externally primarily because of the clandestine nature of the phenomenon. The causes of children and women trafficking are numerous.
The major factors on both a Societal and personal level that cause or contribute to people being vulnerable to trafficking include poverty, desperation to escape violence, corruption, unemployment, illiteracy and ignorance. If you wonder what the future holds, you wonder what will happen in the future.