OGUN Govt says it has the Machinery to Deal with Defaulters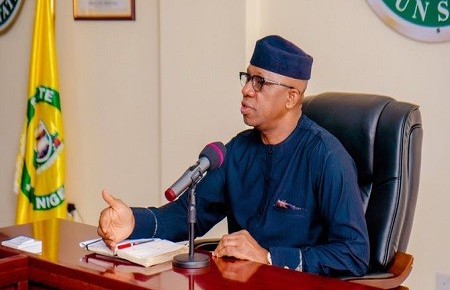 The Ogun State government has said that it had the machinery to deal with defaulters of the ban on public gatherings of more than 50 people.
It would be recalled that despite the ban, some mosques, as well as churches, observed prayers with a high density of worshippers in attendance. 
The Senior Special Assistant to Governor Dapo Abiodun on Health, Dr. Ololade Kehinde gave the warning while speaking with newsmen at the 2020 Inauguration/Swearing-in ceremony of the National executives of National Association of Ogun State Students, NAOSS held in Abeokuta, the Ogun State Capital. 
He added that the precautionary measures were necessary for the best interest of the people, saying that the government would continue to safeguard the public health.
Kehinde, therefore, appealed to the people to adhere strictly to the government directive in the best interest of all.
On his part, the Governor's Special Assistant on Student Affairs, Comrade Adeyemi Azeez disclosed that the present administration has saved the education sector from total collapse.
He noted that Governor Dapo Abiodun government has demonstrated seriousness in changing the fortunes of education and solving the mirages of challenges facing the sector. 
Adeyemi reiterated the present administration's commitment to providing a solid foundation for quality education and building a new model for the unparalleled standard of education in the state. 
In his remark, the newly inaugurated National NAOSS President, Comrade Gbemileke Ogunrombi urged the state government to ensure prompt payment of bursary across all institutions and give scholarships to both outstanding and indigent students.